Based on Nico71 Unimog V4 truck, I build my own radio-controlled trial truck, with red colors and different tires.
Truck Characteristics
The truck has excellent climbing abilities and interesting characteristics :
Radio-controlled vehicle with 2 channel transmitter (steering and drive)
4 wheel drive
3-point suspensions for both axles
Low center of gravity
Realistic style with headlights, taillights, mirrors
Detailed interior with adjustable seats plus steering wheel
Opening doors and hood, with animated inline-4 cylinders fake motor
Improved and personalized elements
Few elements have been improved or personalized, in comparison to original Nico71's version :
Additional reinforces for cabin
Suspensions fixation on chassis are inclined, to avoid mis-alignment during suspension work
Smaller tires (due to lack of larger tires in my Lego Parts inventory)
Reinforced steering system, to avoid steering issues
Replacement of wheel axles, with 5L with stop axles
The Nico71 version
This truck has been built based on Nico71 Unimog. Nico did a great job and I really enjoyed to replicate his trial truck.
You can click on the image below to see the Unimog by Nico71 on his website, instructions are also available.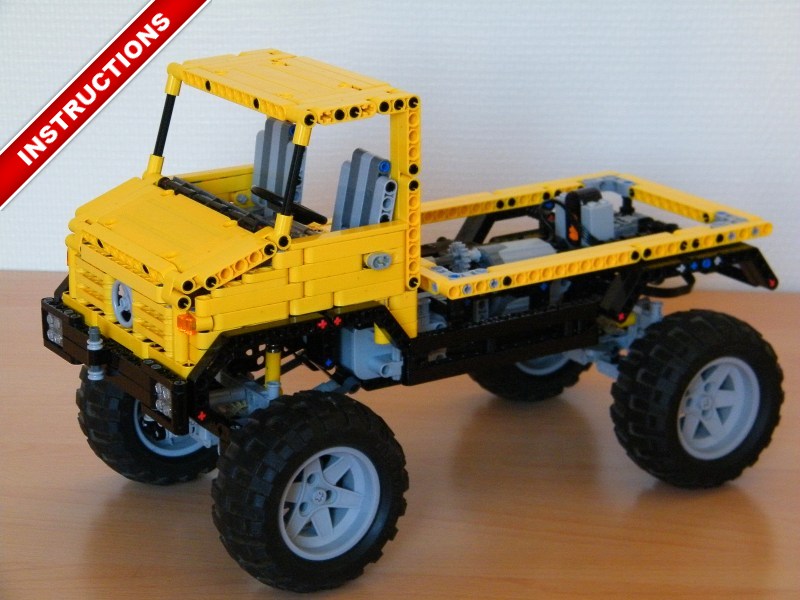 Thanks Nico71 for your awesome work!